2009 Fifty Pence FAKE KEW.
<- Click Here to go back to the main 50p Coins in Circulation page
Counterfeit 2009 Kew Gardens 50p coins are known to exist (meanwhile there are actually many different types). The style of the one shown here is similar to the fake Magna Carta £2 coin and others that can regularly be purchased direct from a Chinese auction website. I always find that the eye (of the Queen) is the most obvious giveaway, as for some reason forgers often have difficulty getting the eye detail right. The forgery on this page at 7.2 grammes is also 10% lighter than a real one which should be 8 grammes. It's diameter is also a tiny amount less than the 27.3mm that it should be.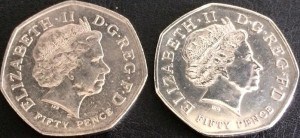 Above: A real Kew Gardens 2009 50p (left) shown next to a fake. Note the wiry hair and the slightly larger lettering.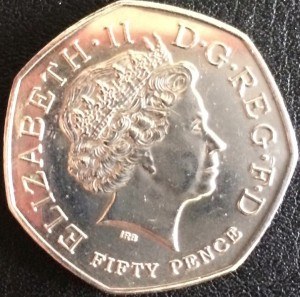 Above: Fake Kew Gardens 2009 50p.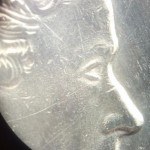 Above: Close up of the Queen's eye on a fake Kew Gardens 50p. Other fakes exist that are not exactly the same, but so far, all seem to have badly executed eyes (among many other inaccuracies).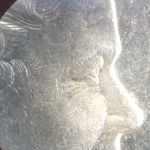 Above: Close up of the Queen's eye on a real Kew Gardens 50p.
The obverse is easiest to identify as a fake. Slight differences also exist on the reverse, relating to the tower and the word 'Kew'.
The official Check Your Change pictures (which are of a proof coin):
Commemorative 50p coin, Type 13 (info on coin type numbers here)
Obverse Type 4b (bust design by Ian Rank-Broadley):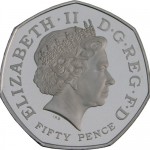 Reverse Type (design by Christopher Le Brun):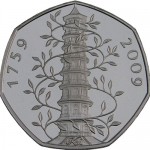 Mintage for Circulation: 210,000.
<- Click Here to go back to the main 50p Coins in Circulation page
Comments