2012 Fifty Pence
<- Click Here to go back to the main 50p Coins in Circulation page
One 50p design was issued in 2012 – The coin with the standard (new) design featuring the bottom section of the Royal Coat of Arms.
Obverse Type 5 (bust design by Ian Rank-Broadley):

Reverse Type 4 (design by Matthew Dent):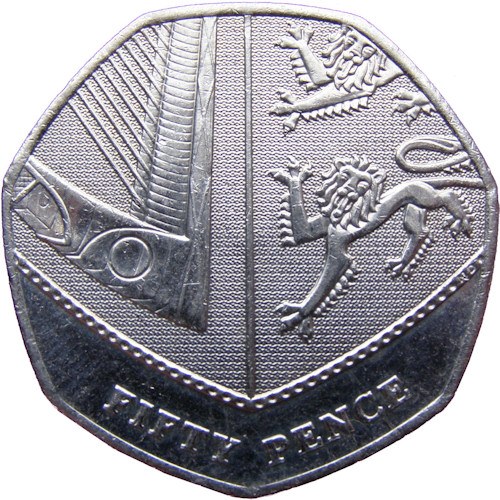 Mintage for Circulation: 32,300,030.
Collectability/Scarcity: 1 (for scale details see here)
The story behind the design:
The obverse portrait of the Queen by Ian Rank-Broadley was used on all UK coinage from 1998 to 2014 and for some 2015 coins. It was the fourth portrait of the Queen used on coinage. For the new design 50p coins the design on the reverse is best suited for a coin with its 'point' facing downwards, so to accommodate this the obverse has also been rotated.
The reverse design, by Matthew Dent shows the bottom part of the shield of the Royal Coat of Arms.
<- Click Here to go back to the main 50p Coins in Circulation page