The Book

"What an interesting book with a lot of information. The best book that i have seen for a long time. Very nicely laid out and easy to read and understand. Would strongly recommend this book for all coin collectors." – T Booth, 7/3/17.
"Collectors Coins – Decimal Issues of the United Kingdom" is the printed and eBook publication upon which this website is based. It's packed full of not just mintage numbers and comprehensive listings of UK decimal coins, but also their current real values and lots of other information. It also includes proofs, non circulating precious metal coin issues and as a bonus, coverage of the current circulating Bank of England banknotes.
It can trace it's history back to 1965 and has been printed in one guise or another almost annually since then. The 2008 version of this book was the first ever book dedicated solely to UK decimal coinage. It is the only book that completely covers all current (English) money.
The previous edition was available from mid March to late December 2016 and sold out! The new one covers 1968 to early February 2017 and was published on the 15th March 2017.
Note that since the book was published there have been a few price movements and new developments, for further details see this post.


For all other Rotographic books on British coins, Irish coins, Roman coins, Military money and medals – see www.rotographic.com or search online.
And something completely different: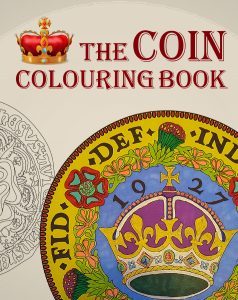 Also available from October 27th 2017 is this, 'The Coin Colouring Book' which contains drawings of 36 coin sides to colour-in. The first ever colouring book just for coins. It's printed on thick paper, includes a lot of detailed older coin pictures, plus a couple of modern, more familiar coins.
Each coin picture includes a paragraph of historical/coin related information. A great gift idea for all ages, and an excellent fun introduction to older British coinage.
Here is a free PDF bonus page to print out and colour-in.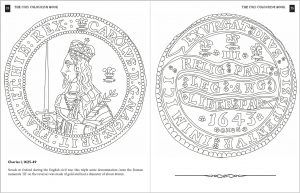 Comments